We thought they were called "Festive Holiday Lights of Season Values!"
This tweet occurred this morning, in which we find a radio station blatantly uttering the word Christmas, to no apparent negative effect that we have heard about. (Of course we don't monitor the CBC like we used to.)

Apparently Vancouver radio station CKWX News 1130 has not received the memo or any of the fascist directives from the PC police or any liberal-left think tanks. No claims of "this is exactly what ISIS wants us to do!!"
Or they did get them, but summarily tossed them in the garbage where they belong (and we hope they didn't sort them into the correct recycling bin!). Which of course means we heartily endorse CKWX News1130 (for now… we reserve the right to rescind in the next hour if they tweet some left-wing bullshit).
LATE UPDATE: All staff are OK as far as we know. No reports of any planned pot smoke-ins or "peaceful protests" or boycotts by disaffected Muslims or atheists or any haughty sneers from CBC reporters or anchors claiming "racist!!" or the ironic "intolerant!!!!" label on them, that we know about.
So far.
Godspeed, you brave common sense normal Canadians manning the Twitter feed.  Merry Christmas CKWX! (Or have we now crossed a line?)
There might be a million photos of Donald Trump. But when you as an employee of a news agency take the time to find and then settle on the photo below to attach to your latest sneering tweet about Donald Trump; for you as a "professional" to abandon any semblance of journalistic neutrality and choose instead to demonstrate your hate in as public a way as humanly possible… you could only have a job at the liberal-left's state-owned CBC.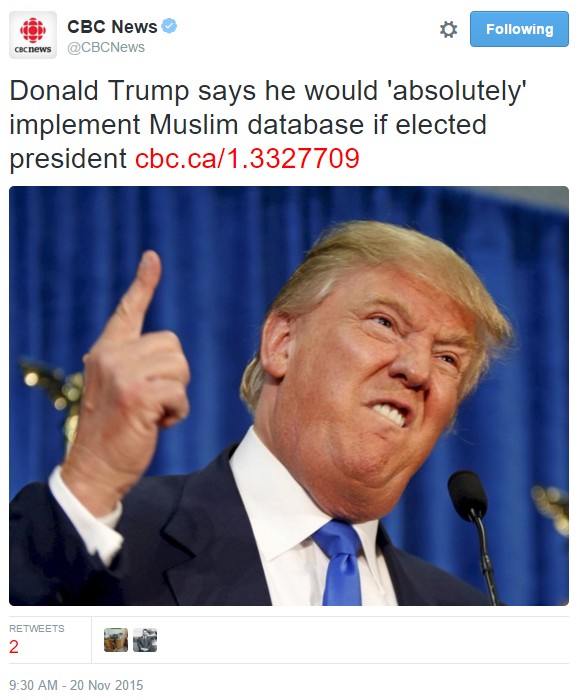 Apparently job security is not an issue for the clearly anti-Trump (etc) employees of the state-owned CBC. Any remaining pretense of neutrality is now apparently completely out the window thanks to their Liberal Party victory. It seems demonstrating their anti-conservative, pro-liberal bias is now more an editorial policy, if anything.
That journalistic malfeasance is from the news agency that avoids the use of the term "Islamic terrorist" because it might be seen as "taking sides," and says "holidays" instead of "Christmas" to avoid "offending someone."
Let's compare that to how they carefully chose an ever so neutral picture of their true love, also from today. It has almost exactly the same editorial tone as the Trump one above: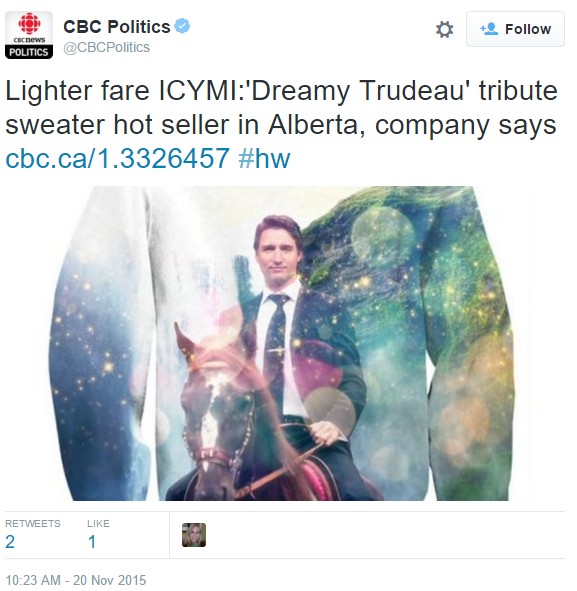 I must be dreaming.  I have no words.