By
Joel Johannesen
on
Monday January 16, 2017 at 1:21 pm .

Follow Joel Johannesen on Twitter
Gee liberals and media, thanks for all the free advice to Conservatives! But yeah, you can just keep it.
Whenever you see a liberal media article (columnist or reporter — they both do it) warn conservatives about their course of action, brace yourself — it's bound to be lunacy. Or we have learned nothing.
Look at today's Globe & Mail pedagoguery, "Note to Conservatives: There is no future in Donald Trump Lite," without rolling your eyes and snickering. Can't do it, can you?

Of course you can't. The media — columnists and reporters — both in the U.S. and in Canada — really couldn't have been more wrong about Trump and the sentiments prevailing in America, at least in the heartland. The media was, and still is, totally clueless about "flyover" USA, otherwise known as "most of America," and "not California." And virtually none of them took Donald Trump seriously; not the possibility of Donald Trump running, winning the Republican nomination, nor the election.
They were wrong about everything. Wrong about Hillary. Wrong about the people. Wrong about America. Yet the high esteem in which they hold themselves has diminished not one bit. They're still dispensing advice.
I'm old enough to remember helping the Harper Conservatives start winning — from this perch — back in the first half of the 2000s by driving — hard — the conservative message, in "bold colors." I was repeatedly lambasted as a Nazi and as part of a bunch of right-wing loons with no hope of driving Conservatives to victory. I was right. They were wrong.
Trump's victory is deja vu.
The very liberal media (its columnists and reporters…) had no idea what the people wanted — not in 2006 in Canada, and not in 2016 in either country. And they know it. And yet they're presuming to give advice, supposedly for the benefit of Conservatives. Here's a little test of your sanity: do you trust them? After being so totally wrong about everything, and after ditching even the pretence of political balance?
Here's an Ibbitson quote ostensible meant to steer Conservatives in the right direction by pointing out the difference between the American and Canadian electorate in terms of anger and trust:
"All in all, Canadian citizens trust the Canadian state."
You'd be forgiven for thinking that was a statement pulled directly out of a Unicorn's butt.
For the first time in Canada, a sitting prime minister — Liberal Justin Trudeau — is being investigated by ethics watchdogs for a serious conflict of interest and for breaking ethics guidelines — a serious breach of trust to say nothing of Trudeau putting a total lie to campaign promises of a new era of ethics and transparency. Some even suggest an RCMP probe is in order, not unlike the FBI investigations on Hillary Clinton and her illegal email server, and the ongoing FBI probes surrounding her alleged pay-to-play schemes and the Clinton Foundation. The similarity of the Justin Trudeau and Hillary Clinton scandals; and the American people's lack of trust of Clinton helping cause her electoral loss, does not seem to faze Ibbitson.
Trust issues here in Canada are not limited to that growing conflict of interest scandal: it's also the now massive and possibly out-of-control annual deficits versus those Trudeau campaign promises which we now know to be outright lies; Trudeau's decision on pipelines, resulting in his losing the trust of the greenies; Trudeau's abject failure to move on his promised electoral reform, which is another outright lie causing another trust deficit; the lack of any real aggressive involvement in helping end ISIS; his cabinet ineptitude; and more — and this after barely a year in office.
Trust?  I'm not feeling it.
On "anger," Ibbitson also makes the exact same mistake the liberals all made down south: thinking only of the folks in the biggest cities and surrounding suburbs — ignoring "flyover" Canada just as they did the U.S., at their electoral peril:
There are doubtless some Canadians who are this angry. But you won't find many of them in the suburban ridings of Greater Toronto and Greater Vancouver, dominated by new Canadians. You won't find many of them in Calgary and Edmonton. People are hurting there, but they know the downturn in oil and gas prices is to blame for the slump, not immigrants or low-wage factory workers overseas.
I don't think folks anywhere blame immigrants — not for that. But they also don't just blame the price of oil. I think they blame liberals and socialists for doubling the reasons for their anger and misery by increasing regulations and taxing carbon and killing a major pipeline and sending billions of our tax dollars to other countries to fight climate change, taking money from communist billionaires, vacationing with billionaire lobbyists, and taking asinine selfies all the time.
It's not just Ibbitson — at the National Post a columnist lectures us in a remarkably similar manner: "Michael Den Tandt: Trump-style nativism is an electoral dead end for Canada's Conservatives."
I tried to help:
Oh calm down and get out into the country. https://t.co/OWP2me7MCq

— Joel Johannesen (@JoelJohannesen) January 12, 2017
Den Tandt wrote:
The Canadian Trumpist movement, led by the charisma-challenged Kellie Leitch, the oleaginous Steven Blaney and soon the trash-talking Kevin O'Leary, is unraveling Harper's life's work by the day. The electoral effects promise to be devastating.
He seems to have forgotten Stephen Harper and the Conservatives lost the last election. Badly. But anyway.
As if on cue, the King of Twitter, David Burge, picked up on a theme similar to mine, this morning, as the liberal media, who enjoy a whopping 9% approval rating — an almost complete mistrust and disapproval of the public — continue to lecture us about Trump — and continue to rail against him:
"Mr Trump, does it concern you that you enter office with a 35% approval rate?" – people in a profession with a 9% approval rate

— David Burge (@iowahawkblog) January 16, 2017
Trump supporters are "irredeemable" according to the failure Hillary Clinton. But the liberal media seem irreparable. Even after being totally wrong about these things, they — seemingly as a group — are still making out like they know best — and like they have conservatives' best interests at heart.
So let's get back to that question of "trust." Here's the scoop: they aren't warning Conservatives against choosing "Trump" or "Trump light" because it won't work, they fear that it is exactly what might work. That's what I think. Trust me. I've actually been right.
Contact the Editor: Joel Johannesen
**Link to this article alone **
Tags: Globe and Mail, Ibbitson, liberal media, Trump
Posted under the categories(s):
Joel Johannesen

Follow Joel Johannesen on Twitter
---
By
Joel Johannesen
on
Friday January 13, 2017 at 4:28 pm .

Follow Joel Johannesen on Twitter
Since it's Friday, here's some assorted lighter stuff I found on the internet today:
1. Eureka. The only good use for man-buns has finally been found: jail.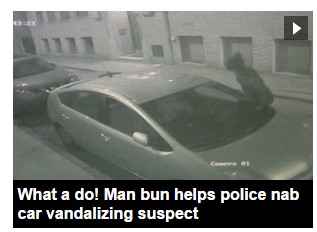 Note that when we refer to "man-buns," we use the term "man" very loosely.
2.  The liberals' New York Times division continues the (seemingly coordinated amongst all the mainstream media) campaign against Donald Trump. A quick scan of their online page today gives you a clue: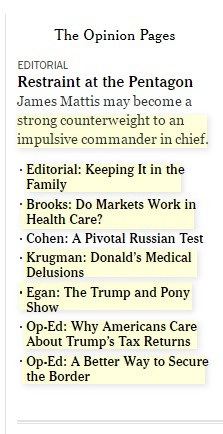 … and on and on…
By the way, don't you love how people who hate Trump (or any person in politics) derisively refer to him by his first name only? Way to go, "Paul." You made your point, you hate President-elect Donald Trump. (Even more hateful and juvenile are those who contemptuously turn "Donald" into "Donny," etc.)
3. Ready for a laugh? This. (Then they went on to discuss how and why Donald Trump is so awful.)
who knew that watching two women fight over the fact they're all wearing white would be so amazing pic.twitter.com/vr0w7RmfET

— G💰 (@oneofthosefaces) January 12, 2017
4. The greatest decision a government ever made:
Nancy Holten, a Netherlands native who moved to Switzerland when she was 8 years old, has twice been denied a Swiss passport because locals don't appreciate her animal rights campaigns, The Local reported.

… the residents didn't want to grant the animal activist citizenship "if she annoys us and doesn't respect our traditions." …
And here we thought Europe was a lost cause.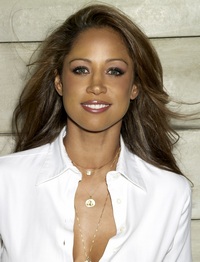 5. We love Stacey Dash. And not just because she's bright young conservative. Also because she's conservative in Hollyweird, and proud of it. So you don't see her being honored at the Golden Globes as much as the rest. Yeah. Ref sentence two and three. Also refer to your lectures from "liberals" about their great love of "tolerance" and "diversity."
And given the above, the book she wrote is called "There Goes My Social Life: From Clueless to Conservative." Conservatives get the joke. Liberals call her a bitch.
What caught our eye this morning was this headline: "EXCLUSIVE: Stacey Dash Says Transgender People Should Pee in Bushes, Claims Feminism Is Ruining Men"
Watching the video of her saying that just about made me pee my pants. It's replete with good quotes:
"Stop trying to be men. Let's be women. And let's let men be men."
"I can look like I look and use all the tools in my toolbox, be a stay-at-home mother and a wife and be a feminist or be a CEO of a company and wear a dress and show my legs and whatever God gave me and be a feminist. I don't have to dress like a man or try to beat a man or try and get a man's job to be a feminist."
You had us at "wear a dress and show my legs" and the yummy chaser, "whatever God gave me."
In another article, headlined "Stacey Dash Regrets Voting For Obama 'Because He Was Black'," she says: "Obama had the opportunity to really unite this country in such a profound way, but instead he has done the opposite. We are so divided right now, everything has become about race, more than I've ever known in my lifetime."  True.
In one of her own articles Dash chats about the recent Golden Globes and one starlet in particular, who preened down the red carpet adorned in a sexy dress with a classy button stuck on it which read "Fuck Paul Ryan." Dash says, "In the name of feminism, she appeared with plenty of armpit hair to help accentuate her feelings toward Paul Ryan." We saw it. It's true. Aside from being a profane ass, the starlet ("An actress almost no one has heard of, Lola Kirke" — who is also totally unrecognizable to me) loaded up with armpit hair for the big occasion. In a previous Instagram post, that same feminist starlet, Lola Kirke, wore a tight white t-shirt emblazoned with: "pussy stronger than god." (Caps are so uncool with the kool kid set).
6. Slightly related to #5: "Many children who are diagnosed as transgender may actually be autistic" and "Children who think they are transgender 'could have autism' and are 'fixating' on their sex, says expert."  But good luck with all your social/sexual experiments on our kids, liberals.
Contact the Editor: Joel Johannesen
**Link to this article alone **
Tags: autism, liberal media bias, man-buns, Stacey Dash, transexual, vegans
Posted under the categories(s):
Canada, Joel Johannesen

Follow Joel Johannesen on Twitter
---